Reaching Your Target Customers by Advanced Remarketing Tactics
Have you ever visited a website and looked at some products and seen the exact same product again in an advertisement on a different website? That's dynamic remarketing!
Remarketing is designed to show advertisements to people who have already visited your website. The goal of this is to make these visitors return to your website. If they are already a customer, they are more likely to convert! See Remarketing Strategies here: http://digizoom.nl/remarketing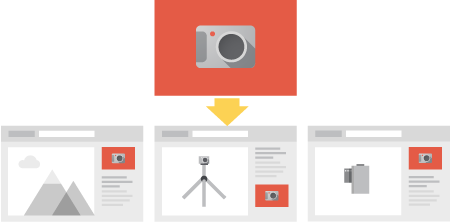 Dynamic Remarketing further specializes your remarketing ad. Instead of just showing an advertisement to a person who has already visited your website, it will show a tailor made message based on the previous visitors interests on your site. Since the message is tailor made and personalized it is even more likely these re-visitors will click on it, return to your website and generate a conversion.
When you show ads on the Display Network, you can reach a wide range of customers with a variety of interests. You can also choose which sites or pages you want to run your ads on. By using salient ad formats you can make the visitors engage in your ads.
Text Ads on Website
Image Ads on Website

Video Ads on Website
Text Ads on Mobile Websites
On the Display Network, you can choose the sites where you want to display your ads on more specifically. Moreover, you can choose the types of pages, specific websites and the target group that your ads will be displayed to.
Some benefits of dynamic remarketing are:
We can show your entire inventory by pairing all your different product items or services with dynamic advertisements.
We can determine the best mix of products for each ad based on popularity and what the visitor viewed on your website. This makes sure your potential client sees the best products, or the products or services he/she already showed an interest in.
The advertisements are automated to show in a high-performance layout.
The optimal bid for each impression is calculated based on optimizing conversions and costs per click. This gives you a good indication of the cost per impression.
Other Benefits
Upselling
Another great way to use dynamic remarketing is to upsell your products or services. When a visitor buys a product or service from your website you can make sure that your customer sees more products and services of your website. For example: You sell cars online and a visitors ends up buying a car on your website. Now you can use up sale remarketing to advertise to this customer with complementary products and services, for example by showing your car insurances and maintenance services.
These benefits are a great opportunity for your business and can help you to increase your sales and leads. However, dynamic remarketing can still be a complex task and accuracy is crucial. We are here to help you to increase your sales and leads by using dynamic remarketing.
Cross Selling
If you customer list who have purchased a product from you, we can use this data to promote more products and services, event with a discount code as returning customers. Data that you have is much more meaningful than ever now.
Are you ready to increase your online sales and leads?Contact us for more information and a free consultation.
Dynamic Remarketing Application Form
Want to know how we can help you grow? Fill in the form below, and a Digital Marketing Expert will analyze your case and contact you.