Each campaign needs to be well thought out and executed to work perfectly. Our team is experienced in setting up Mobile Engagement Ads and increasing the engagement of Mobile Ads. Just as mobile friendly websites have their own issues and elements so do mobile engagement ads. Therefore, we make sure the ads are designed for the restricted small screens of smartphones and are still attractive to catch the mobile users' attention. We do the work for you and make sure the Mobile Engagement Ad is well targeted and personalized for your potential customer.
In the last years we can see a shift in the use of mobile devices and that is why companies start focusing more on advertising on mobile devices. In accordance, we can see that the Mobile Engagement Ads are getting more popular.
Interactions and Engagement
Mobile Engagement Ads are designed to create emotional involvement or commitment in an advertisement. This involvement or commitment can consist of time spent and interaction with the ad. How many seconds are people viewing the ad? How are people interacting with the ad? Do users click, touch or swipe? A few examples of these interactions are downloading an app, extending a video, sharing content, swiping to the next screen, or watching the entire video ad until the end. The more, the better!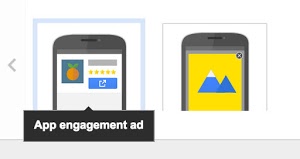 Why is engagement in an ad so important?
Engagements in an advertisement can be seen as mini conversions. All these small conversions will help to achieve your goal. You win the attention of the user, which makes the user more committed to the ad and more likely to perform a second action. Moreover, Engagement Ads can create a strong brand connection between the brand and the user, because there is interaction involved.
If Mobile Engagement Ads fit in your marketing strategy, contact us to see what we can do for you. Still not sure about what types of advertisements are suitable for your business? Drop us a message and we can analyze this and discuss the possibilities with you.
Mobile App Download & Engagement Ads Application Form
Want to know how we can help you grow? Fill in the form below, and a Digital Marketing Expert will analyze your case and contact you.