Heb je ooit een AdWords advertentie op je favoriete website of in je Gmail account gezien? Vraag jij je ook af hoe die daar komt? Google Display Network is een cluster met meer dan 1 miljoen websites en apps. Dit websites in dit netwerk hebben aangegeven Adwords advertenties te willen weergeven op hun website. Display Network (voorheen bekend als het Content Network) is een onderdeel van het Google Network. Google Network, inclusief Google Search resultaten en andere onderdelen van het Search Network, is de naam voor alle websites waar AdWords advertenties kunnen worden weergegeven.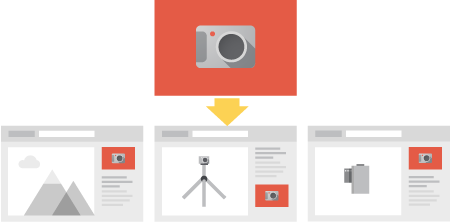 Deze websites zijn dus onderdeel van het Google Display Network. Display Network is een verzameling van websites en specifiek Google websites zoals Google Finance, Gmail, inclusief Blogger en YouTube. Mobiele sites en applicaties zijn ook onderdeel van dit netwerk.
Text Ads on Website
Image Ads on Website

Video Ads on Website
Text Ads on Mobile Websites
Wanneer advertenties in het Display Network worden getoond, is het mogelijk om een veel breder publiek te bereiken met verschillende interesses. Je kunt ook specifiek kiezen op welke websites of pagina's je de advertentie wil laten zien. Door het gebruik van opvallende advertentie-indelingen zullen bezoekers eerder iets met je advertentie doen.
In het Display Network kun je specificeren op welke websites je de advertentie wil tonen. Je kunt kiezen welke specifieke websites, wat voor soort pagina's en aan welke doelgroep je de advertentie wilt tonen. Krijg de doelgroep sneller in beweging met een opvallende advertentie-indeling. In het Display Network kun je gebruik maken van tekst, afbeeldingen, video's of een rich media indeling.
Door het tonen van visuele advertenties kun je:
Meer producten en diensten verkopen
Klantenbinding creëren
Nieuwe klanten aantrekken
Merkbekendheid vergroten
Google Display Network Application Form